Welcome to Eastlake Lacrosse
Home of the 2018 & 2019 WHSBLA 4A State Champions
What's New

Our mandatory membership meeting is coming up on February 27th from 7 - 8:30 pm in the Eastlake auditorium. This is for parents and players, both boys and girls, youth through high school.
Practices are in full swing, but it's not to late to register! Spring Boy's High School registration, Spring Girl's High School registration and Spring Youth registration are all still open.
This season Eastlake Lacrosse is supporting Points4Prevention to help compact mental illness and teen suicide. Visit our Points4Prevention page or pledge directly here, Plateau Showdown Eastlake vs Skyline and/or Eastlake Season Wins.

LAX Bash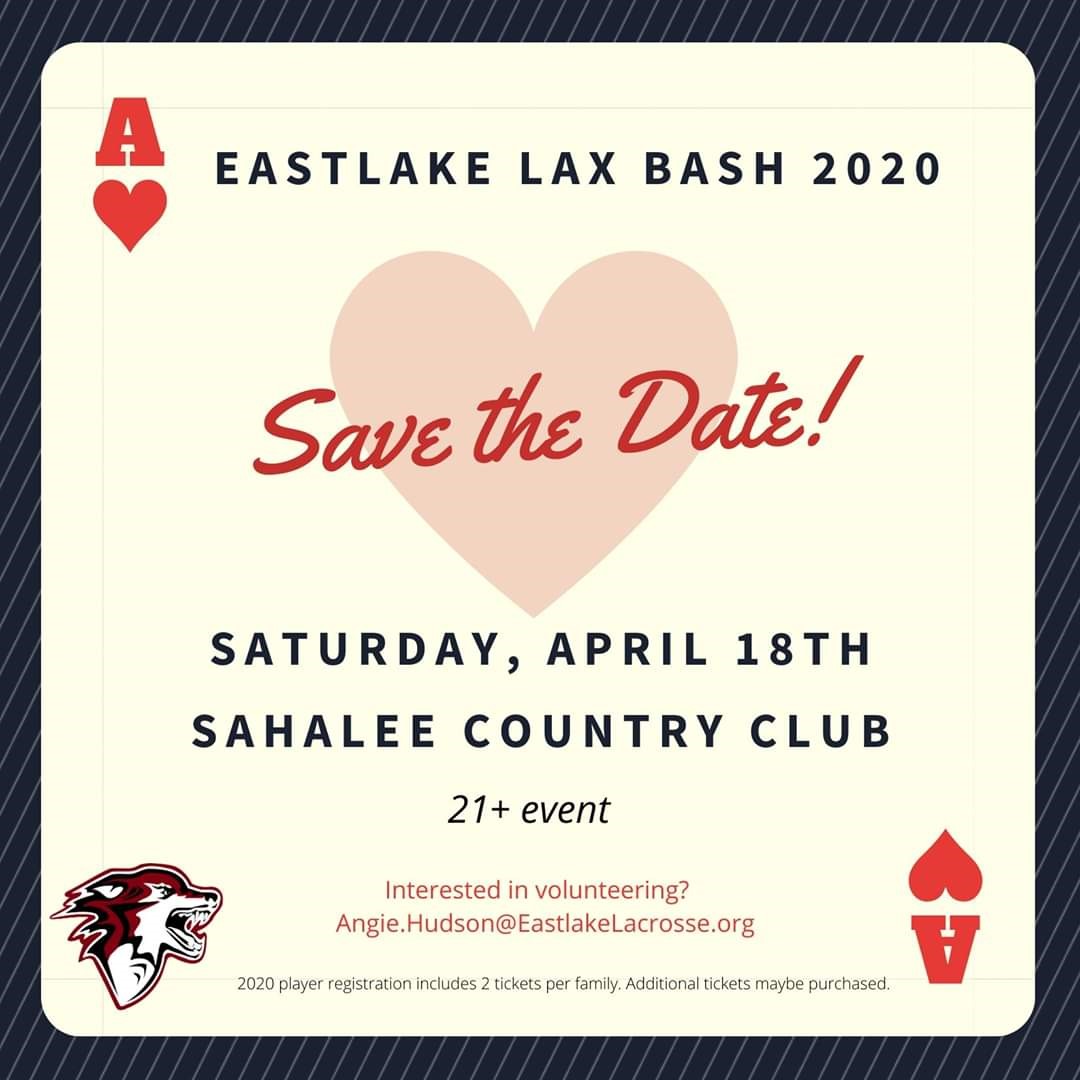 LAX Bash 2020 will be held at Sahalee Country Club on Saturday April 18th! Email Angie.Hudson@eastlakelacrosse.org for volunteering opportunities! 
Getting Started
New to Eastlake or interested in starting lacrosse? You're in the right place. The primary lacrosse season is Spring. Registration opens in late October. Practices start at the end of January and the season lasts until the middle of May. New players of any age are welcome to join. Visit our FAQ for lots more info and we're always happy to answer any questions. Contact us at info@eastlakelacrosse.org.
Meet the Gang
Meet our coaches and board members and find out how to contact them on the Coaches page and the Board of Directors page.

Hunter Scholarship Fund
In memory of Tom Hunter, father of 4 Eastlake High School Alums, Eastlake Lacrosse is honored to sponsor the Hunter Family Scholarship Fund. Find out more on the Hunter Family Scholarship Fund page.
Support Eastlake
Interested in supporting Eastlake Lacrosse? Consider sponsoring us by visiting our Sponsors page or hit the Donate button below.